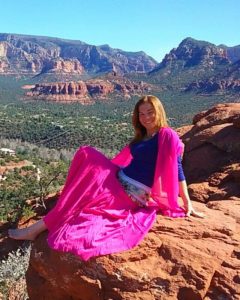 Cara Marie is a healing artist.
She is a creative artistic soul who loves to assist others in their healing, empowerment and transformation. She works with people one-on-one in private healing sessions but she also performs her music to energetically assist masses of people simultaneously.
She holds a BA in Fine Arts with a MA in progress in Theology
She is a Reiki Master Teacher & Practitioner of Both Usui & Karuna Reiki
An Integrated Energy Therapy Practitioner
Indigo Healing practitioner
Emotion Code practitioner
Entity Removal Practitioner
She is a true libra, loves beauty, art, music, dance,
aesthetics and all things sacred.
She loves assisting others in anchoring  UNITY CONSCIOUSNESS
in the Earth plane, witnessing their transformation as they to come into
a greater balance within themselves and in their lives.
How did Cara find her calling?
A traumatic accident was the catalyst for exploring energy healing when her mother was injured and broke her back.
Reiki was a springboard that led to a dynamic life transformation which accelerated during a spiritual retreat in Angel Valley, Sedona.
Cara Marie serves as a guide, coach, teacher and healer assisting others in their personal ascension processes and transformation so that they can come into greater alignment with their souls & the many facets of their mission/purpose. Together with her beloved Daniel Posney (www.danielofsedona.com) she loves to share and teach about sacred partnership & sacred sexuality.
Her journey has been a challenging and educational one with opportunities for growth around every corner. Through deepening self-love, self empowerment, self expression, self healing, setting healthy boundaries, belief work, detoxification, prayer, meditation, balancing masculine/ feminine aspects, conscious loving communication, sacred sexuality she transformed her life, raised her level of consciousness and vibrational frequency.
She now finds great satisfaction and fulfillment assisting others in doing the same. She loves to assist others in coming into greater alignment with their souls so that they can fulfill the many facets of their life purpose/mission, be the person they were created to be and live happily.